Gastenboek
25-01-2018

- Super snelle levering en alles netjes en veilig ingepakt. Communicatie... 

lees meer

15-10-2017

- Tevreden met mijn bestelling, goed ingepakt en snel in afgeleverd

lees meer
Plaats een bericht
Lego 76052 Batman Classic TV series - Batcave
LEGO DC Comics Super Heroes
Batman Classic TV series Batcave
76052
Help Batman en Robin de boeven te vangen die zijn binnengedrongen in de Batcave. Deze LEGO set bestaat uit een Bat Lab met Batcomputer, de Batmobile met noppenschieters, een Batcopter met knipraketten en de Batmotor. Dit speciale model, gebaseerd op de klassieke tv-serie uit de jaren '60, bevat ook een Wayne Landhuis-gedeelte met een buitenmuur en Bruce Wayne's werkkamer met de karakteristieke Batphone en een boekenkast die opzij geschoven kan worden om de geheime ingang naar de Batcave te onthullen. Voordat ze langs de glijpalen naar de Batcave schuiven moeten Bruce Wayne en Dick Grayson veranderen in Batman en Robin.

Eigenschappen:
Veel speelplezier met deze LEGO DC Comics Super Heroes-speelset.

Inclusief minifiguren van Batman, Robin, Bruce Wayne, Dick Grayson, Alfred Pennyworth, The Joker, Catwoman, The Riddler en The Penguin.

Het Wayne Landhuisgedeelte bevat de werkkamer van Bruce Wayne met de bekende Batphone, een scharnierende Shakespeare buste met geheime knop, wegschuivende boekenkast voor toegang tot de Batpoles en diverse elementen.

In de Batcave vind je het hi-tech Bat-laboratorium van twee verdiepingen met Batcomputer en allerlei afneembare accessoires.

Inclusief de bekende Batcave-ingang voor de Batmobile en een helipad voor de Batcopter.

Wapens: The Jokers TNT, Catwomans zweep, The Riddlers TNT en de paraplu van The Penguin.

Accessoires: Batmans drie Batarangs, touw, enterhaak en handboeien.

De Batcave is 46 centimeter hoog, 56 centimeter breed en 20 centimeter diep.

De Batmobile is 6 centimeter hoog, 21 centimeter lang en 7 centimeter breed.

De Batcopter is 7 centimeter hoog, 22 centimeter lang en 19 centimeter breed.

De Batmotor is 4 centimeter hoog, 8 centimeter lang en 4 centimeter breed.

De set bevat 2526 stukjes.
Winkelwagen
Geen artikelen in winkelwagen.
Aanbieding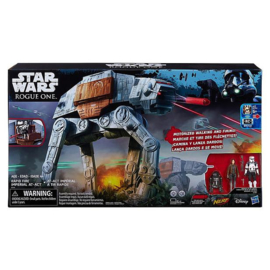 Hasbro Star Wars Signature set AT-ACT
€ 399,95
€ 329,95