Gastenboek
28-11-2019

- Zocht een oudere Lego set en deze hier gevonden, super... 

lees meer

28-11-2019

- Supersnel geleverd

lees meer
Plaats een bericht
LEGO 41611 BrickHeadz Marty McFly & Doc Brown - Back to the Future
LEGO BrickHeadz

Marty McFly & Doc Brown
setnr. 41611

Bouw je eigen LEGO BrickHeadz 41611 Marty McFly en Doc Brown uit de film Back to the Future met deze speciale set van 2 figuren! Bewonder hun gedecoreerde ogen, de DeLorean tijdmachineregelaar van Doc en de camcorder van Marty, en plaats de tijdreizigers vervolgens in het verleden, het heden of de toekomst op hun bodemplaten!
Eigenschappen:
Deze bouwbare LEGO BrickHeadz-bouwfiguren van Marty McFly en Doc Brown hebben BrickHeadz ogen en authentieke details uit de onvergetelijke film Back to the Future, waaronder hun beroemde outfits, een afneembare DeLorean tijdmachineregelaar en een camcorder.

Elke LEGO BrickHeadz-bouwfiguur wordt geleverd met een eigen bouwbare bodemplaat.

Breid je LEGO BrickHeadz-verzameling uit met andere klassieke personages uit je favoriete films, tv-series, games en strips.

Combineer de onderdelen van verschillende LEGO BrickHeadz-bouwfiguren en creëer je eigen, unieke personages.

De figuren uit Back to the Future zijn elk ca. 7 cm hoog zonder bodemplaat.
Winkelwagen
Geen artikelen in winkelwagen.
Aanbieding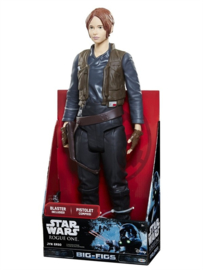 Star Wars Rogue One figuur 45 cm - Jyn Erso
€ 34,95
€ 24,95